An audio monitoring and control aid, the Gab-Stopper is a software tool designed to help young ones (and adults too) keep their voices down in the classroom, library, home, or any venue where noise can be a problem. Using brightly colored graphics, the Gab-Stopper provides easy feedback in the form of a standard traffic light. Green indicates acceptable noise levels. Yellow means warning and indicates increasing noise levels. Red means alert and indicates sound levels are unacceptable. Optional .wav sounds can be played on the computer when warning or alert levels are reached.

As an incentive, the Gab-Stopper provides an automatic score indicator ranging from 0 to 100%. If noise levels are kept low, the score bar increases. If noise levels rise, the score bar decreases. This feature can be used as a reward mechanism. Help students focus on tests, reading assignments, or other activities where a quiet environment is required.

Suitable for a number of uses, the Gab-Stopper is ideal for educators including teachers and home-school parents. Useful at all developmental levels including elementary, middle, and high schools, the Gab-Stopper is the perfect education aid. Use the Gab-Stopper on a computer located at front of the room or in a location where the display is visible to all. Or, use with an optional projection system. If the area contains multiple computer stations, each computer can be set up to monitor voice levels within its area.



The Gab-Stopper provides functions and features similar to expensive electronic devices, but goes a step further. These devices also monitor noise levels, but are somewhat limited in their ability and are generally unable to filter incidental noises such as coughs, door-closures, or book-drops. The Gab-Stopper is a full-featured application that can be configured to easily ignore incidental noises. All you need with the Gab-Stopper is an available PC or laptop with soundcard and a standard microphone.
Parents can also use the tool to help control noise in the family room, kitchen etc., especially when some quality quiet time is desired.

What's the best way to use the Gab-Stopper? You'll get the best results if you use the program as a reward tool rather than a means for punishment. A special reward or privilege for good behavior will always yield the best results.
The Gab-Stopper is suitable for any venue where noise is a problem and has a myriad of applications:
Classrooms
Cafeterias
Libraries
Homes
Meeting areas
Offices
Conference rooms
Hospitals
Libraries
Play areas
Exhibits
Auditoriums
And more...

Screenshots
The Gab-Stopper features graphical magnification options.

Large easy-to-see indicators are perfect for distance viewing:
Score
("Magnify" feature)


Noise-Level Traffic Signal


("Magnify" feature)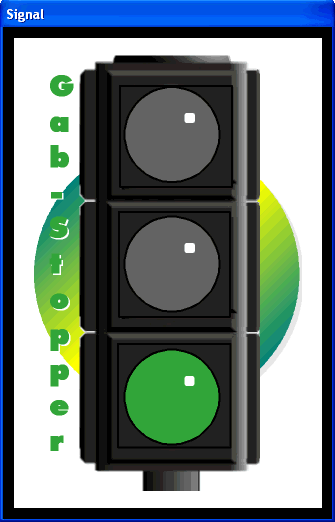 What do users think about the Gab-Stopper?
"As a teacher of technology I use the Gab-Stopper daily. The Gab-Stopper saves me instructional time because the students come to the computer lab quiet and ready to work. The Gab-Stopper runs on my overhead projector from my laptop as a visual reminder to students to keep their voices low. I customize Gab-Stopper to give auditory cues when the volume in the room gets too high.
I use the Gab-Stopper as a reward system for students. When they do not "set the Gab-Stopper off" they earn five minutes of free time in the computer lab. I keep track of their points and after four classes they are given the free time they have earned.
The students love Gab-Stopper because it keeps them on task. They compete with other classes to earn additional free time. They are rewarded for their excellent behavior. All 28 of my classes are judged fairly and equally. I especially appreciate all the time I save asking and waiting for quiet. This makes me an effective teacher.
Thank you for this wonderful tool for classroom management!"
Jennifer H.
Instructional Technologist,
Jacksonville, FL

"I just wanted to say that I'm very pleased with Gab-Stopper. As a deaf person that is teaching sign language to my students, it is a frustrating challenge for me to constantly monitor the students' talking. Far too much class time is wasted with classroom management. However, with the Gab-Stopper, every single one of my classes has earned a score of 100% of no talking with Gab-Stopper. Now, this might be a novelty that may wear off after a while, but the fact that ALL of my classes hit 100% even once is just amazing to me.
What I really like is that Gab-Stopper allows me to focus on teaching the lesson instead of dealing with students who are talking. By telling my students if they get a good score they can earn rewards (such as a classroom party every 2 weeks) then the students take it upon themselves to tell each other to stop talking. Peer pressure (combined with Gab-Stopper) can be a wonderful thing."
Rob N.
American Sign Language Teacher
Texas


"I had been looking for a tool to help manage classroom noise levels. Being a teacher in a designated future school, I believe in leveraging technology to enhance my teaching efficacy. I tried the Gab-Stopper in my classroom which is comprised of thirty-four 9 year-old kids. It was quite a hit with them from the start. The point system combined with audio and visual effects reinforces positive behavior. With dual screens in my classroom, I can project the traffic light on one screen while I carry out my teaching on the other. I set a target goal at the beginning of the day and if they achieve it, they are rewarded as a class.

The Gab-Stopper is simple to learn and use. I've tried other methods in the past, but none has achieved the same outcome. I would not hesitate to recommend this tool to any teacher who needs to control classroom noise levels."

Roland T.
Teacher
Singapore



Features:
Suitable for school, home, office, and more
Traffic signal with red, yellow, and green indicators
Sound level meter indicates noise levels
Score-bar [0 to 100] provides positive incentive
Configurable noise detection setting prevents "triggering" on incidental noises
Adjustable sensitivity to detect voices at a distance.
Choose optional sound .wav file to play when warning (yellow) or alert (red) occurs
Timer displays elapsed monitoring time
Optional score magnification for long-distance viewing
Integrated registration and support tools
Free 14-day trial


System Requirements
Windows XP, Vista, 7, etc.

Pentium CPU
1 MB RAM
1 MB Available Hard Disk Space
VGA Monitor
Sound-card
Microphone
Speakers (optional)
Download & Purchase



Software purchases are non-refundable. The download includes a 14-day free evaluation period for a "try-before-you-buy" experience. You are encouraged to download and use the application for the entire two weeks prior to placing an order. If you encounter compatibility issues or other concerns with the evaluation, they should be addressed

before

buying the product. Once you are familiar with the application and satisfied with its operation on your computer, you may purchase a license through an approved GabStopper reseller listed below.





Reseller

Download




Contact

-
Click Here
info @ kadtronix.com







Please Read:


Software purchases are final and non-refundable.
Upon purchase, instructions will be provided for obtaining a license activation key. The key will enable permanent use of the application.

If you would like to become a paid reseller for this software, you are invited to apply today. (See details below.)







Reseller





Want to become a GabStopper reseller?


Increase your sales today! We are looking for qualified individuals and organizations who are interested in adding the GabStopper to their product line. Those interested should visit our online reseller application form:






*** Important: Please read...***:




The software is distributed as a self-extracting zip file. Purchase entitles you to receive a license key-code which activates the software for permanent use. (The reseller from whom you made the purchase will provide the license key.) To receive a key, you must first register. You may register at any time during the 14-day trial period. The key-code will be provided to you via e-mail, typically within 24 hours after registration. Should you encounter any problems, please contact your reseller.









Contact

The GabStopper was created by Kenneth Delahoussaye Consulting. If you have product questions or would like to become a reseller, please use the following e-mail address:

info @ kadtronix.com